Slovenian coach Veselin Vujovic talks about the rest of the team's bench, and the World Cup in Denmark and Germany. Veselin Vujovic remained the handball selector of Slovenia despite the fact that the national team did not qualify for the 26th World Championship, which begins today in Denmark and Germany.
– When we lost five differences in Koper from Hungary, then we played for four days in Veszprém, and Mr. Franjo Bobinec (the first man of the Handball Federation of Slovenia) came before the game to talk to me where he told me: "Look at this, our chances to go through the Hungarians are minimal and I really would like to ask you not to come to a position to make some resignations, which I would not even accept. At this moment when our chances are minimal, I offer a new contract for four years! ". There he wanted to pre-investigate the press and prove that the Alliance is behind me, and when one man has such support, and if that person knows something, then the chances are great to do something good. Slovenia has returned a step back so that we can get better off so that we can make a bigger leap at the European Championship. It's not a disaster that we are not going to the World Cup, and for two years there have been so many competitions that it's an attack on life and on the brain. We have a break, we have a continuation of qualifications for the Euro 2020 in April, and we must be best placed on those championships from those who do not choose to qualify for the Olympics. We are in a bit of a problem when the right gang is in question because Jure Dolenec, who is crucial in this position, is not recovering from knee surgery, is not yet at the level that we need, and everything else is well-suited to us when we resolve this position, then Slovenia will be a representation with a good rating, says Vujovic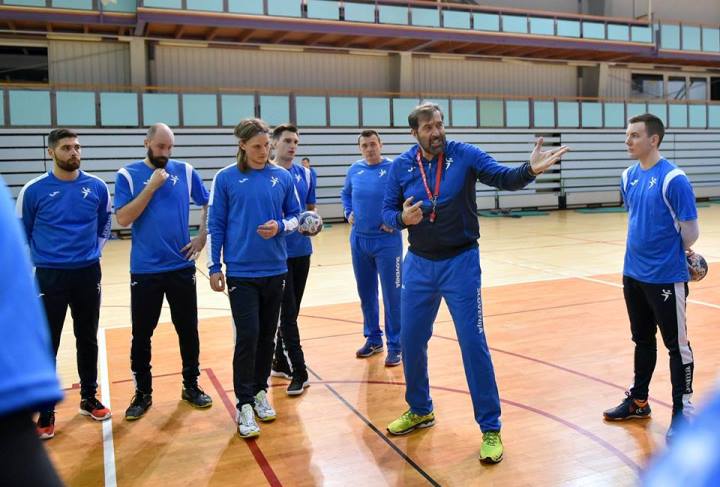 With your arrival in Slovenia you rejuvenated the national team.
– When the Kavticnik stops playing, even the experienced Bezjak, then we will have a very young team. We have a Mackerel, who has been playing in strong clubs for years, and has 25 years. Zarabec likewise, so the Bombarder plays for so many years, and he has 27. These are all players who will carry the game of the team for the next four or five years. For a national team, it's important that a group of players connect several big competitions, create that chemistry and a lot of confidence with the selector. I have already highlighted that I have changed 17 players from the World Cup in Qatar to the one in France. They can not afford this great world power either, and we won the bronze without the Bombarder, without Zorman, without the Schokf, in fact, without players who thought that they would not play handball when they left. If you now take five or six players now to Germany or France, the question is how to end. We made such a roster that we do not depend on anyone individually and does not drop our rating so easily, and each player is equally important to us. I always had such a system of work and I applied it here, the words of the popular Vuje, who say that France is not the same selection without Thierry Omeyer and Nikola Karabatić, and does not think they can defend the title of the world champion.
– We played two matches with them, we lost both. When you do not see Omeyer and Karabatic in the field, they do not act seriously, and the problem may be the lack of such two classes of which the opponents had previously frightened. Now many more opponents will attack them to win them. It's a big problem, when you're weak, so everyone is kidding you and somebody can do it. Nevertheless, they are a strong and lasting national team, I am sure they will fight for high-ranking, but I would not dare to say that they will be champions.
The favorites are the same, it never changes. We can not say that this will be Iceland or Russia, because everything is going on between the same teams, including Croatia, but France, Denmark, Germany, Spain and Sweden close this selection circuit which are the favorites for the highest ranking. All these countries work systematically. Here, our tour in France is a real holiday of handball, it was a fantasy. For two friendly matches, the hall is filled with five thousand people. They work a lot, have these centers for the formation of young players, and from such countries they need to learn. Croatia never quieter and shy does not go to big competition. They had a euphoric preparation for the Euro last year when they were hosts, when they thought it would be the climax, but they slipped. If they did not succeed in Croatia, it is difficult now to raise euphoria when they are out of their country. Personally, I fear that there may be a dose of nervousness in both the selector Lino Cervar and the player. Cervar was already out of the squad with one leg, so he remained in a strange way. But now if there is no result, he goes away, which can burden him and the players. One is when you can play and you know that the selector remains there for a long time, and one is when you know that he leaves seven or fifteen days later, then a Balkan mentality, indiscipline or something that can overcome the top score can arise. But God forbid that this silent departure of Croatia to the World Cup be a concealed trump from which Croatia will perform strongly. If and for whom we need to cheer, these are Croatia, Serbia and Macedonia,
above all for our national teams and that the handball returns to where his place is, and I think that we always played the best handball in the world from Yugoslavia, says Vujovic, who believes that Nenad Perunicic can do good things with Serbia.
Results and disappointments
– When there is a rejuvenation of the team, no one can predict what the result will be, the one who can then be a monster. The most important thing is that in every game players are struggling, doing their best and in such circumstances one team can lose, but difficult. But such a way of losing the game is publicly forgiven. It had Serbia bigger stars than now, but did not give the maximum expected, so it gave bad results and disappointments. Give God a chemistry, to make a good group of players, that Nenad Perunicic be a true leader, who will know everything to agree and make Serbia take a serious path.
Macedonia depends on Kiril Lazarova.
– Although it's hard, but if they find a good solution as a substitute for Kira Lazarova, then they can do a lot in the coming years. They have young wings, they made several young backs, but they just miss that player on the right back. If Kiro maintains this pace of a large number of matches in the championship for a short time, Macedonia can play a serious tournament, Vujovic said.
Vujovic returned to Nis, where he continued preparations with the Railwayman for the spring part of the season.
– It starts what we are preparing for, which is to finish the SEHA league and to play even more and experience, and to prepare for play-off in Serbia, where we are favorites with Vojvodina, Dinamo from Pancevo and Metaloplastika for conquest title. It would be a whip on a sports cake in Nis, that would be the first title in the collective sport, and I hope that we can do it, said Veselin Vujovic .